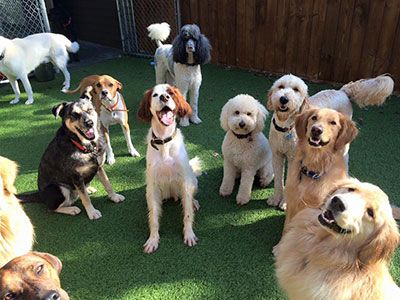 Why Maple Tree Veterinary Hospital Day Camp?
We are offering a unique experience for your dog that will provide stimulation and socialization while teaching basic manners. The Dog Camp is a safe, loving place where dogs will experience enrichment and form bonds with other dogs and Camp Counselors.
Day Camp Registration
First, fill out our camper questionnaire form online and call or email to schedule an interview, or temperament test. It will take about an hour to introduce your dog to the camp routine. After your dog has successfully completed the interview, we are ready to sign your dog up for camp! Please take the time to read the FAQ's, Camp policies and Waiver in the peace and quiet of your home before bringing your dog to camp. We will be happy to discuss these with you when you check into camp.
A Day at the Dog Camp
Dogs will have a set schedule that repeats twice during the day: free play, individual enrichment time with Camp Counselors, and nap time. Cage free all day, dogs will enjoy the freedom and beauty of our new Dog Camp with constant supervision. Inside and outside areas are divided into separate play areas for larger dogs and smaller dogs. We have consulted with experts in both the physical design of the Dog Camp and in the design of daily interaction with dogs. We are confident your dog will have fun, learn and go home not just tired, but with a feeling of satisfaction from the positive interaction with our Camp Counselors and other campers.
Dog Camp Hours
| | Morning | | Afternoon |
| --- | --- | --- | --- |
| Monday | 7:00am-12:30pm | | 2:30pm-6:00pm |
| Tuesday | 7:00am-12:30pm | | 2:30pm-6:00pm |
| Wednesday | 7:00am-12:30pm | | 2:30pm-6:00pm |
| Thursday | 7:00am-12:30pm | | 2:30pm-6:00pm |
| Friday | 7:00am-12:30pm | | 2:30pm-6:00pm |
| Saturday | 8:00am-12:30pm | | 2:30pm-5:00pm |
| Sunday | Closed | | Closed |
Dog Camp is closed daily from 12:30pm - 2:30pm.
Camp Barber: Monday - Saturday by appointment only.