Our Staff
Dr. Brian H. Birthright
Doctor of Veterinary Medicine
Dr. Birthright's love of the mountains, since childhood, brought him from Tuscaloosa, Alabama to Waynesville, NC. Since graduating from Auburn School of Veterinary Medicine, he has wanted to open his own hospital and practice a high level of medical care including internal medicine, surgery, and emergency/critical care.

When not working or spending time with his family Dr. Birthright can be found riding his bicycle on the scenic roads of Haywood County or on his mountain bike exploring the trails. He has completed the Assault on Mount Mitchell and several other challenging races that show his stamina and determination.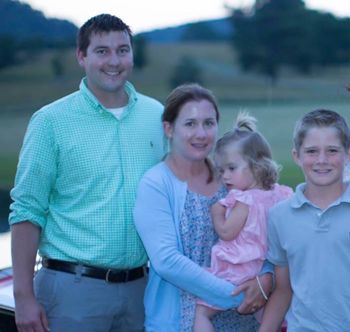 Dr. Rachelle McKinnon
Doctor of Veterinary Medicine
Dr. McKinnon began working with us in 2013 and is now a part of our team two to three days a week. She is a native of Haywood County and a blessing to us. More later!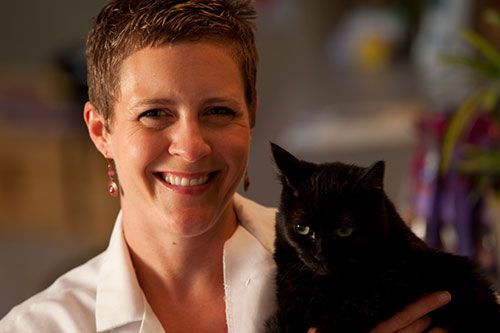 Dr. Nancy East, DVM
Doctor of Veterinary Medicine
Dr. East attended Auburn University's College of Veterinary Medicine and settled down in Waynesville after graduating in 1997. She worked full time as a small animal veterinarian until she became a mother, trading in her stethoscope for a diaper bag. She continued to work part-time, working as a relief veterinarian in regional hospitals, ultimately working exclusively at Maple Tree Veterinary Hospital. She immensely enjoys working with Maple Tree's clients, patients, and the amazing staff.

Dr. East and her husband, Larry, have three beautiful children--Aidan, Paige, and Wogene (who joined their family through adoption from Ethiopia in 2012). She home schooled her children for five years but ultimately helped start a charter school where they now attend school. She enjoys being a member of Haywood County's Search and Rescue Team and she loves spending time with her family and their beloved dog, Josie, as well as hiking, backpacking, and traveling.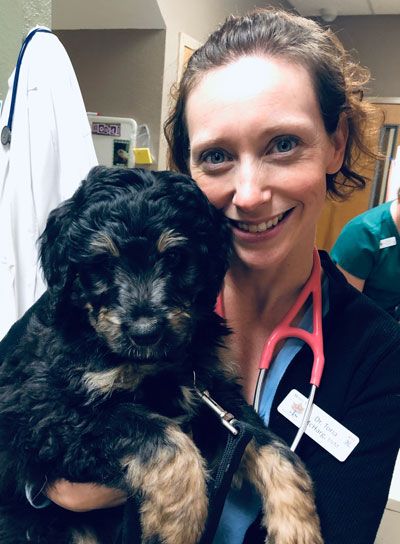 Dr. Toria Boone McHarg, DVM​​​​​​​
Doctor of Veterinary Medicine
Coming Soon...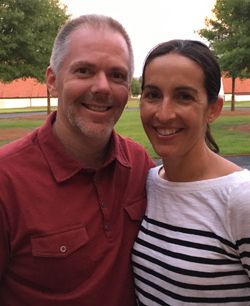 Kate Birthright
Hospital Manager
Kate and Dr. Birthright have been working together since designing, building and finally opening the hospital in July of 2005. In 2012 Kate joined the team at Maple Tree Veterinary Hospital on a regular basis working as the hospital manager.

Kate grew up in the panhandle of Florida and moved to Boone, NC to attend Appalachian State University. After graduating she spent the next two years in Honduras serving as a Peace Corps Volunteers. Upon returning to the United States she chose Asheville as her home. Working with Catholic Social Services and Children First were rewarding jobs but a love for Spanish and the move to Waynesville after marrying Dr. Birthright led her to obtain her certification as a Spanish teacher for Haywood County Schools. While working as a teacher Kate also did work on evenings and weekends for Maple Tree. After having their second child in 2012 it seemed like a good fit to move full time into a management position with the hospital.
Brittany Heathman
Veterinary Technician
Brittany Heathman has been part of the Maple Tree team since 2014. She previously worked in the University of Tennessee Veterinary Teaching Hospital in the Large Animal Clinical Sciences department. She has a yorkie named Crissa and a ball python named Tyki. Brittany's hobbies include hiking, reading, snow skiing, and snowboarding.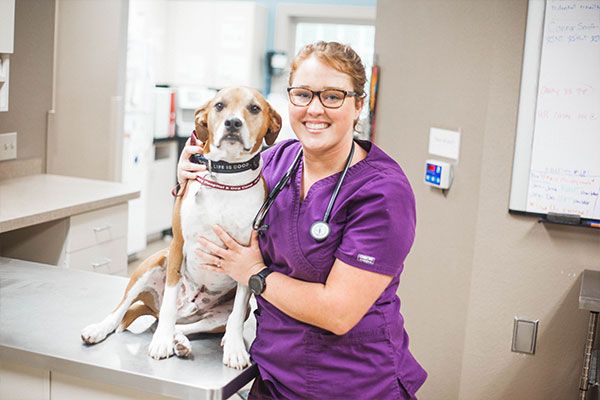 Emiley Powell
Veterinary Technician
Emiley Powell joined us in September of 2017 after graduating from A-B Tech. She grew up right here in Waynesville, NC. Emiley has two dogs and two cats. Her dogs are Cooper, a miniature dachshund, and Cocoa, a yorkie. Her littermate cats are named Riley and Rosie. Outside of work she enjoys spending time at Lake Chatuge, reading, and exploring the Parkway.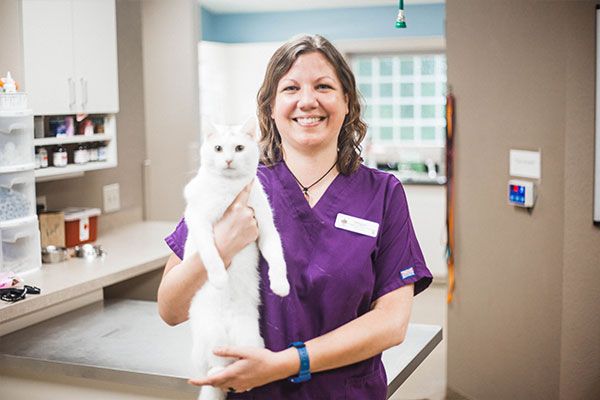 Megan Katzfey​​​​​​​
Veterinary Technician
Megan Katzfey joined the team in 2015. She is originally from Dayton Ohio and used to be a first mate on a snorkel tour. She has three lovely littermate cats named Lily, Moose, and Bear. When she is not at work or playing with her cats, Megan loves reading, gardening, cooking, and kayaking.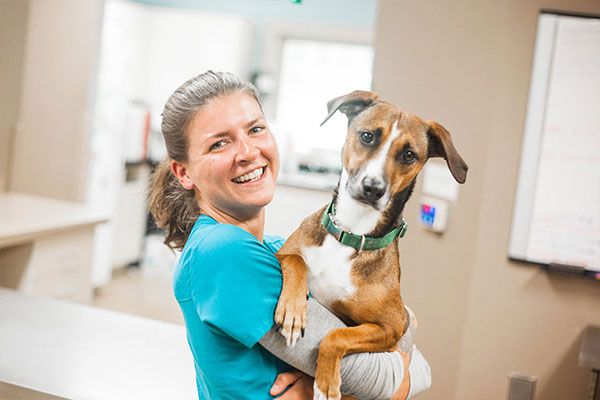 Maddie Perry ​​​​​​
Veterinary Assistant
Madeline Feigl has been with us since 2015. She works as our inventory manager and dog camp counselor. She is originally from Centralia, Illinois, but loves living in the mountains! She has two cats, Falcor and Strider, who she loves very much. She also has a three-year-old pit-bull/terrier mix named Deets. Outside of work she spends as much time as possible outside hiking, camping, reading, gardening, and road tripping.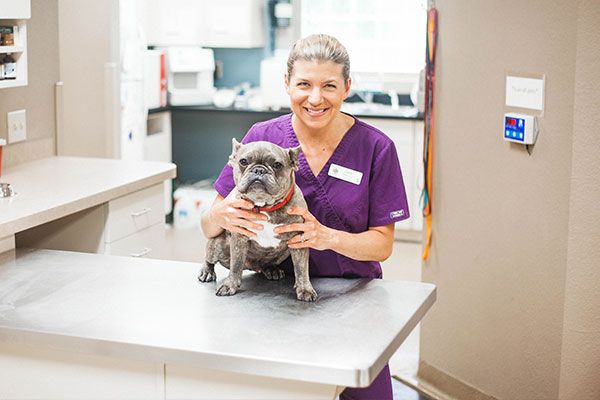 Carie Casserino​​​​​​​
Veterinary Assistant
Carie Casserino joined us in 2017 after moving here from Massachusetts. She has a precious cavalier named Murphy and 5 cats named Finnegan, Kylee, Liam, and Logan. In addition, Carie also has 17 chickens. Outside of work, Carrie enjoys planning her homestead and hiking.
Christina Hepner
Veterinary Assistant
Coming Soon...
Carly Shaw​​​​​​​
Veterinary Assistant
Coming Soon...
Julie Smith
Client Care Coordinator
Coming Soon...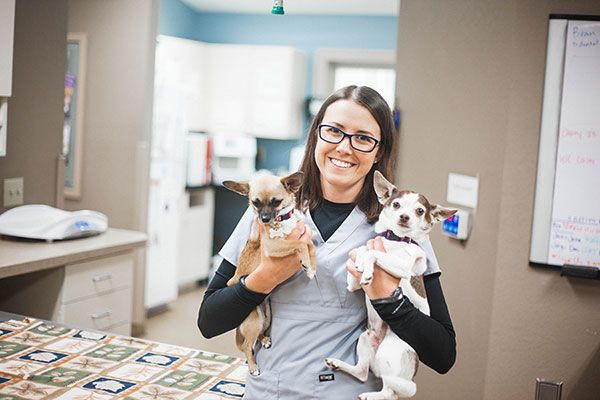 Brie Pope
Client Care Coordinator
Brie Pope became part of Maple Tree's family in 2016. She is from Candler, NC and used to work as a computer technician. She has two adorable Chihuahuas named Tito and Penny. Outside of work, she loves to read anything scary or spend time at the lake.
Julie "JO" Ott​​​​​​​
Client Care Coordinator
Coming Soon...
Spring McKenzie
Camp Leader
Spring McKenzie is born and raised here in Western North Carolina. Tucked in Balsam mountain, she lives with her partner and 6 animals. She began working with animals while in school, double majoring in psychology and biology to get a base for animal behavior. She started off at home with a small husky rescue and continued to adopt purebred huskies from local shelters. Time was spent getting them trained and rehomed to the right family. After graduating from Western North Carolina University, Spring started managing local fine dining restaurants, which led to a beautiful job at a nature preserve. She feels truly grateful that the opportunity came into her life to become a Dog Camp leader here at Maple Tree's new business. When not at work Spring spends time hiking our beautiful area with her 3 dogs.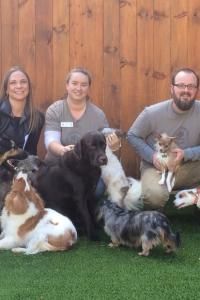 Camp Counselors
Camp Counselors
We have a wonderful group of loving, caring, observant Camp Counselors who have been trained to monitor and guide play between dogs. They come from various backgrounds but what the Camp Counselors have in common is a passion for providing a safe, fun place for animals to play. We are blessed to have staff that feels this is their happy place!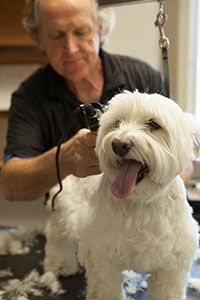 Rick Best
Camp Groomer
Rick started with Maple Tree Veterinary Hospital in December 2010. He retired from a successful career in the restaurant industry six years ago to pursue his passion of working with dogs. In this time he developed extensive experience working with dogs and understanding their behaviors and temperaments in dog day care environments. His interest in understanding the importance of proper health and maintenance throughout a dog's life cycle led him to grooming where he became certified and has continued to enjoy success and building new relationships with his four-legged friends.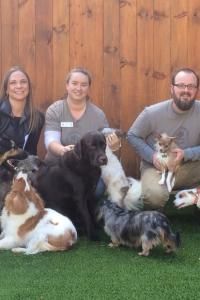 Paige McClaine
Groomer
Coming Soon...